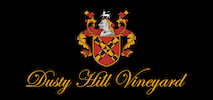 Dusty Hills Vineyard
80 Waterview Drive, Moffatdale Qld 4605
Family owned and operated Dusty Hill Vineyard & Winery in the Barambah Valley, located in the South Burnett region of Queensland.
Overlooking picturesque Lake Barambah, it is located just below the small village of Moffatdale, near Goomeri and Murgon.
As one of the region's first established wineries, Dusty Hill is highly regarded as an outstanding venue for food and wine as well as boutique accommodation.